The Amfah portable professional dehumidifiers of the series FDNF are high-performance appliances, equipped with robust galvanized steel frame painted with epoxy resins and mounted on 4 swivel casters that make it easy to move. They have a high efficiency air filter in polyurethane, washable and easily replaceable, and a very large condensate collection tank with the possibility of direct drain.
It is possible to install a condensate lifting pump instead of the tank that allows condensate pumping up to a height of 3.5 meters from the machine positioning level.
The main characteristic of all the Amfah portable professional models of the series FDNF is the evaporation coil that consists of smooth tubes in aluminium. This unique arrangement derived from professional dehumidifiers allows a lower power consumption of the appliance, with a very high efficiency even at low relative humidity. All models include the defrost timer and Hot Gas defrost.
Have Any Questions?
Call Us Today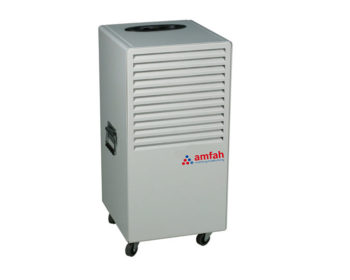 The frame and the sheets are hot galvanised, epoxy powder coated, ensuring high strength and durability.
Rotative compressor, mounted on vibration dampers.
Evaporator: the evaporation coil consists of smooth tubes in aluminium. The smooth tubes ensure a high yield of the dehumidifier, significantly reducing energy consumption, even at low relative humidity.
Condenser: the coil is made of copper pipes and aluminium fins, the wide size of the condenser fins ensures resistance to dust, long life and easy maintenance of the machine.
CONDENSATE COLLECTION TANK
The condensate collection tank, installed as standard, is very large and can be easily removed. The machine is also ready for connection to a fixed condensate drain.
Optional in all versions, it replaces the condensate collection tank and allows to remove the condensed water up to a height of 3.5 mt with respect to the position of the machine. Equipped with an alarm for dehumidifier stop in the case of pump failure.
Alternatively, it is available a condensate lifting pump kit, easily applicable outside the dehumidifier, provided with malfunction alarm that switches off the machine.
Axial fan, statically and dynamically balanced, long-lasting and durable.
Controls the defrosting cycles with hot gas, the timer of the compressor and the alarm card.
Located at the top of the machine.
Executed according to the European standards in force.
Tests are performed to check the tightness of the refrigeration circuit. Electrical discharge tests and functional tests are performed as well.
Have Any Questions?
Call Us Today